April 17-18,  2013
Concourse Hotel and Governor's Club, Madison
WHSA invites Director, Parent, and Staff Affiliate representatives as well as Family & Community Partnerships Managers and related staff to join us at the WHSA Spring Quarterly meeting. Affiliate members will visit the state Capitol to meet with legislative offices.
Registration: $60 per participant
Deadline: April 10, 2013
Agenda:  2013 WHSA Spring Meeting Agenda
---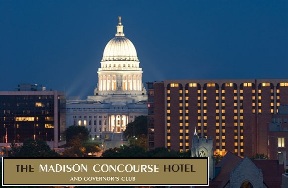 Hotel Information
The Madison Concourse Hotel and Governor's Club
One West Dayton St. Madison WI 53703
800 – 356 – 8293
Fax 608 -257 -8454
Guest rooms are $70.00/single and $110.00/double
Deadline for Room Reservations – April 1st
Please identify yourself as part of the "Wisconsin Head Start" Spring Meeting".
Parking charges are based on the prevailing rate at the time of the function.
The rate for overnight guests is $10.
Additional parking facilities are located within one block of the hotel.
---
Oops! We could not locate your form.