What is Head Start?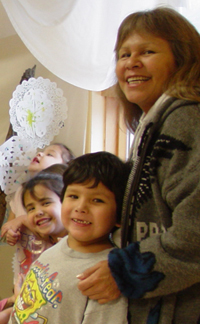 Head Start is our nation's premier provider of developmental and educational services to infants, toddlers, preschoolers, pregnant women and their families. Head Start and its community partners work with at-risk families to remove their barriers to success and to cultivate children's social, physical, emotional, and cognitive development so they have the abilities necessary to succeed in school and life.
The Head Start program was founded on the premise that all of our nation's young children–regardless of the circumstances of their birth–should have the opportunity to succeed. We promote a love of learning because we know that life-long learning is a cornerstone to success.  Today's Head Start children are tomorrow's high school and college graduates.  Not only do we want Head Start children to enter school on equal footing with their peers, we want them to be prepared, ready, and on the right path for life.
We know our impact on children, families, and communities happens one child at a time.
Head Start services are evidence-based, developmentally appropriate, and  family-centered.  We coordinate with community organizations to  better support parents in their work and child-rearing roles.  Children who attend Head Start participate in a variety of learning activities, eat healthy meals and snacks, received medical and oral health care, and enjoy playing in safe indoor and outdoor environments.
Head Start includes comprehensive:
Early childhood education and care;
Child development services for cognitive, social, emotional, and physical growth; and
Family development and support services.
Does Head Start Really Work?
Yes.  Because our approach addresses academic learning, emotional growth, social maturation, parental training, health and dental care, and much more, our results extend beyond the early childhood classroom to a child's overall well-being and preparedness for life.  At Head Start we focus on achievable growth.  We know our impact on children, families, and communities happens one child at a time.  This does not mean that collective Head Start success is not measurable or tangible.  It is.  We know our methods are working long-term when we produce more high school (and college) graduates, decrease the need for special education services in our public schools, and decrease the number of children and young adults repeating grades.  We're committed to ongoing adaptation, development, and improvement to ensure the future successes of Head Start children.
How is Head Start Different?
Head Start programs operate under the strong belief that parents are their child's first, best, and most influential teachers.
It is our holistic approach–focused on child, family, and community–along with an unparalleled emphasis on comprehensive services that makes Head Start stand out from other early childhood programs.
Additionally, Head Start programs operate under the strong belief that parents are their child's first, best, and most influential teachers. A child's home is her primary learning center.  Head Start works with families to remove barriers to child and family success and to deepen parents' abilities to support their children.  Continued and meaningful parental involvement in the education of their children is a crucial element to improving child and family success.  It is a child's early experiences that help determine how well a child performs in school and in life.
Its inclusiveness also makes Head Start different from other early childhood programs. Head Start is committed to serving and supporting all young children including those:
From culturally diverse backgrounds,
With physical or developmental disabilities, and
Who are vulnerable and may be experiencing or at risk for social or emotional distress.
Early Head Start:
Early Head Start, created in the mid-1990's, serves pregnant women and infants and toddlers from birth to age three. It focuses on boosting healthy prenatal outcomes, advancing the development of infants and toddlers, and enhancing healthy family functioning. Like Head Start for children aged three to five, Early Head Start programs elevate a child's social and cognitive development and extend health, nutrition, social, and other support services to family members.
American Indian/Alaska Native, Migrant/Seasonal Programs:
So, in it's broad sense, "Head Start" encompasses:
Head Start programs serving preschool-aged children 3-5 and their families;
Early Head Start programs serving pregnant women and children from birth to three and their families;
American Indian and Alaska Native Head Start/Early Head programs serving pregnant women, young children, and families in over 200 tribal communities; and
Migrant/Seasonal Head Start programs serving prenatal children, young children, and families from migrant or seasonal farm worker communities in 33 states.
Vision for the Future:
Head Start will continue to play a key role in the transformation of education in America. We will bring our long record of success in working with the most challenging young children and their families to our partnerships with those in education and family services.  Together we will deliver on our nation's promise that all of our young children have the opportunity to succeed.

–The Head Start Ad Hoc Leadership Committee
The Head Start Ad Hoc Leadership Committee is comprised of Head Start leaders from states and regions across the nation. Committee members first examined the position of Head Start in the field of early childhood education and care and then identified the collective vision for Head Start shared above.