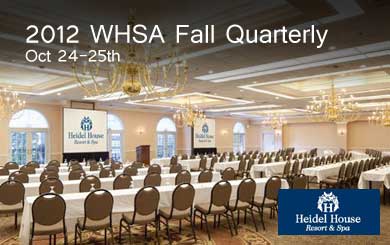 WHAT: 2012 WHSA Fall Quarterly Meeting
SPONSOR: Wisconsin Head Start Association (WHSA)
WHEN: Wednesday,October 24 and Thursday, October 25, 2012
WHERE: The Heidel House Resort, Green Lake
DESCRIPTION: WHSA invites Director, Parent, and Staff Affiliate representatives as well as Education, Disabilities, and Mental Health Managers to join us at the WHSA Fall Quarterly meeting.
REGISTRATION: Online
DEADLINE: Please register ASAP
MORE INFO.: Can be found at the registration link.
AGENDAS:  Please click for the Overview
ACCOMMODATIONS:
Heidel House Resort
643 Illinois Ave
Green Lake, WI 54941
Phone: 800-444-2812  and 920-294-3343
Guest Rooms:
$70/single
$92/double
$107/triple
$122/quad Per night +tax.
Request the "Wisconsin Head Start Association FALL Meeting" room block by, ASAP to ensure group rate and availability.
Call by October 8, 2012 to ensure group block rate availability.

Please contact the WHSA office with any questions. We look forward to seeing you in Green Lake in October!