Source: Wisconsin Council on Children and Families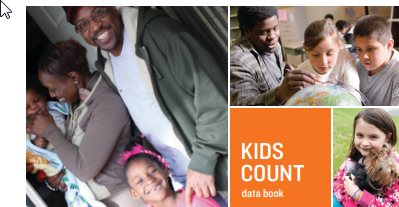 Wisconsin's national ranking has slipped in 11 out of the 16 key indicators of child well-being showcased in this year's national KIDS COUNT Data Book, published annually by the Annie E. Casey Foundation. Our overall ranking among the states on child well-being was 15th.
This year's Data Book uses a new, updated index of 16 child well-being indicators that have been grouped into four broad domains: Economic Well-Being; Education; Health; and Family and Community. On the national level, the data reported in the report shows that families have experienced setbacks in Economic Well-Being since about 2005, but have made gains in Education and Health.
While Wisconsin's children lost ground relative to other states on many indicators, our actual state numbers improved on six indicators and stayed the same on three. Wisconsin ranked in the top 10 in only one of the four major domains this year, coming in at number 10 in Education.
On Health—an area in which Wisconsin has traditionally ranked among the best in the country—the state held steady on most indicators. However, our rank in percentage of children covered by health insurance dropped because other states are improving while we tread water.
The 2012 KIDS COUNT Data Book, with full state-by-state rankings and supplemental data, is available at http://datacenter.kidscount.org/databook/2012/.