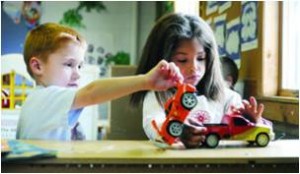 Head start for the whole family
Maria Lockwood – 04/18/2012
Twice a year, Family Forum Head Start buses students to the dentist. Monday, the short yellow buses will bring the children's parents to a job fair at Wessman Arena. Unlike a traditional preschool, Head Start encompasses the entire family. While children learn the skills they will need for school, their parents are connected to services they need. "The biggest advantage of Head Start is it is comprehensive," said Executive Director Dave Cochrane. "People don't realize how much we are," said Sue Fabini, manager of Family Forum Head Start Center 2 in Superior. The program focuses on health and nutrition, social services, family goal setting, parent volunteerism and school readiness. "You're really hitting it all," Fabini said. Family Forum serves 580 children ages birth to 5 in five northwest Wisconsin counties from 10 centers and 34 classrooms, as well as home visits. "We're all interested in getting these kids to be the very best they can be, getting them ready for school," said Judi Walker, a former public health nurse who serves as a consultant for the program. Partnering with parents makes sense, Cochrane said, because they are the child's primary educator. Teachers and staff members are committed to the families they serve. The average number of years a teacher stays with Head Start is 11 and a half. Some have been with Family Forum more than 30. "Parents almost to a parent love their teachers," Cochrane said, and 99 percent of parents locally called the program highly successful. Monday, 5-year-old De'angelo McClay and his classmates were engrossed in an activity based on Eric Carle's book, "The Very Hungry Caterpiller" at Center 2. "He loves it," said his mother, Angel McClay. "When he first started he wouldn't be able to sit on the rug like that." De'angelo's writing has improved and he is more relaxed at home. "I think it's an awesome program for the kids," McClay said. "They're really focusing on getting them to understand, to work together here. If they can get along with other kids, behave in school, it really does give them a head start." The impact is sometimes felt for years. Fabini said one of her former students, 25, stops in for a visit whenever she's in the area. "I think it's really cool she remembers us," the center manager said. The federally funded Head Start program began in the area during the 1960s as part of the Community Action Agency's war on poverty. Cochrane joined Head Start in 1971 and took the helm when operations were taken over by the non-profit Family Forum agency. The program's budget has swelled from $365,000 in 1980 to $4.5 million annually, with the majority of funding coming from state and federal sources. Ninety percent of participants have income limits that are below the federal poverty guideline; the other 10 percent come from any income level. "Head Start has maintained a pretty non-partisan position," Cochrane said, as politicians on both sides of the aisle realize the benefits of the program. Student assessment shows children enrolled in Head Start see average or above average skills growth each year. And the program connects families with agencies throughout the area, based on their needs. "We've probably worked with every agency at one time or another," Cochrane said. "These kind of partnerships make us better able to serve families." Monday's job fair is a good example of the program's flexibility and outreach. Many Head Start parents are looking for job skills and jobs, Cochrane said. So Family Forum will provide rides or mileage reimbursement to those parents who want to attend the event. The agency's commitment to families has caught the attention of Congressman Sean Duffy's office, which is putting on Monday's job fair from 9 a.m. to 2 p.m. Monday. "They plan to meet with us about a fall job fair," Cochrane said. For more information about the program, go to www.familyforum.org. Applications are currently being taken for Family Forum programs, including center-based learning for children ages 3-5, home-based learning for children from prenatal through age 5, the Community Preschool Program (or 4-year-old kindergarten program) and the two year combination program. Family Forum recently moved their offices from Hawkes Hall, where they had been for 25 years, to the third floor of the Board of Trade Building at 1507 Tower Ave. The agency will host an open house from 11 a.m. to 2 p.m. April 27 in their new office space, suite 312. The event is free and open to the public. Refreshments will be served.