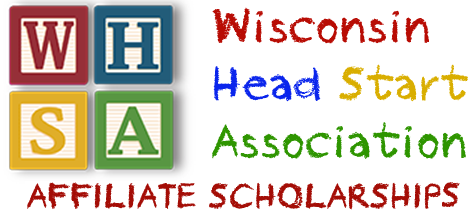 WHSA 2021 Staff Affiliate Scholarship
Click Here to Download the WHSA 2021 Staff Affiliate Scholarship Application: 2021 App Staff Affiliate Scholarship
En Español:  2021 App Staff Affiliate Scholarship Spanish
The Staff Affiliate Scholarship is an annual scholarship made available from funds raised throughout the year by the WHSA Staff Affiliate members. The Staff Affiliate would also like to give special recognition to Lakeshore Learning Materials for their generous donation during the WHSA Annual Conference. Their generosity and support of this scholarship fund-raising raffle continues to help make this scholarship possible.
WHO IS ELIGIBLE? The Staff Affiliate Scholarship will be awarded to a current Head Start employee, employed by Head Start for at least one year from date of his/ her hire.
AMOUNT OF SCHOLARSHIP: The scholarship award is $400. The award can be requested for an advanced education, recertification, professional development and/or related educational expenses. Notification of the award will be given by WHSA office. Attendance at the Awards Ceremony at the Fall Quarterly event is strongly encouraged.
ATTACH AT LEAST TWO LETTERS/EMAILS OF RECOMMENDATION
One letter/email of recommendation should be from your current supervisor.
The other letter/email of recommendation may be from a colleague of your choice – i.e. professor, mentor, or Head Start staff member.
Recommendation for WHSA scholarship applicants should address the following areas:
Personal or professional achievements of the applicant
The applicants educational and career goals
Head Start and community involvement
Financial need of the applicant
Any special needs or circumstances
Application must be SIGNED BY HS/EHS PROGRAM DIRECTOR and received at the WHSA office by FRIDAY, APRIL 16, 2021 to be eligible for consideration.  If the Program Director is unable sign the application either virtually or physically, notice of permission/support must be emailed to WHSA at the below address by April 16, 2021 by the stated director.
Mail or email completed applications to:
Wisconsin Head Start Association
Scholarship Application
5250 E. Terrace Dr.  Suite 112
Madison, WI  53718
Phone:  608-442-6879
WHSAassist@whsaonline.org
Click Here to Download the WHSA 2021 Staff Affiliate Scholarship Application: 2021 App Staff Affiliate Scholarship
En Español:  2021 App Staff Affiliate Scholarship Spanish
*Scholarship winners will be expected to provide testimony to WHSA regarding their Head Start experience.
---