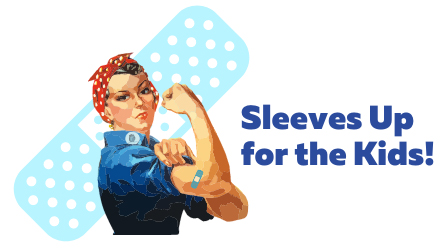 Sleeves Up for the Kids: Vaccine Outreach Project
Description: Sleeves Up For The Kids is a vaccine promotion project in the state of Wisconsin aiming to reduce vaccine hesitancy in the large, socially and economically vulnerable early care and education workforce and the parents who interact with this workforce. The overarching goal of the proposed work is to improve COVID-19 vaccine uptake in vulnerable populations statewide by delivering accurate, timely, accessible vaccine information to both early care and education (ECE) staff and families who use ECE
services. Clic aquí para español.
Virtual/Webinar Webinar Dates & Registration:
Webinar 1: What We Know About Covid-19 (and What We Don't): Monday, 4/26 12-1pm & Thursday, 4/29 6-7pm
Webinar 2: Vaccines & You. Yes, We Will Take Questions: Monday, 5/17 6-7pm & Wednesday, 5/19 1-2pm
Sleeves Up for the Kids: Microgrant Opportunities
Description: This microgrant is available to an organization, business, or group that is working with and/or connected to children and families and is willing to promote this project's vaccine information and has a demonstrated plan for leveraging the funding to engage staff, families, and community members on the importance of getting a COVID-19 vaccination. Grant recipients must be able to attend two webinars (available at a variety of times, by recording, and in Spanish), support their staff/members to attend, be willing to distribute print and social media, and engage in vaccination conversations with the target populations.
Questions: Contact Jennie Mauer atjenniem@whsaonline.org.
Event Organizers: This project is led by the Wisconsin Head Start Associatio11 Supporting Families Together Association, the Wisconsin Early Childhood Association and Dear Pandemic, and funded by the Wisconsin Department of Health Services .
---