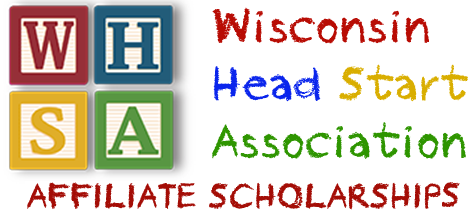 Wisconsin Head Start Association – 2021 WHSA Parent Affiliate Scholarships
"Positive Opportunities for Parents" (POPS) Scholarship
Click Here to Download the WHSA 2021 Parent Affiliate Scholarship Application: 2021 App Parent Affiliate Scholarship
En Español: 2021 App Parent Affiliate Scholarship Spanish

Who is eligible?
Any current Early Head Start or Head Start parent or guardian (a person legally responsible for a child) who is enrolled in or planning on attending an accredited education institution or job training center. Proof of enrollment is required to receive a scholarship.
Applicants may not be previous POP Scholarship (or any WHSA Scholarship) recipient.
Current HS/EHS staff are not eligible for a POP Scholarship. If you are a current staff member we encourage you to apply for one of the WHSA Staff Affiliate Scholarships.
Amount of scholarship
The scholarship award is $300. The award can be used for course fees, books, childcare, and/or transportation. This year two scholarships will be awarded.
Eligibility and selection of award recipients
The Wisconsin Head Start (WHSA) Parent Affiliate will determine the eligibility of each applicant and select a candidate to receive the scholarship. Committee members who are related to an applicant, or have a "relationship of significance" with an applicant, will exclude themselves from the review/selection process.
Criteria used for selection
Criteria used for selection includes the applicants' personal and professional achievements, Head Start and community involvement, need (financial, extenuating circumstances, etc.), and educational and career goals.
How do I apply?
Applications are available online at www.whsaonline.org and at each grantee/delegate location.  Applications must include Head Start/Early Head Start Program Director's signature to be considered complete. If the Program Director is unable sign the application either virtually or physically, notice of permission/support must be emailed to WHSA at the below address by April 16, 2021 by the stated director. All completed applications must be received at the WHSA office or emailed to WHSAassist@whsaonline.org no later than Friday, April 16, 2021.
Where do I send my application?
Please mail or email completed applications to:
Wisconsin Head Start Association
Scholarship Application
5250 E. Terrace Dr.  Suite 112
Madison, WI  53718
Phone: 608-442-6879
Email: WHSAassist@whsaonline.org
Click Here to Download the WHSA 2021 Parent Affiliate Scholarship Application: 2021 App Parent Affiliate Scholarship
En Español: 2021 App Parent Affiliate Scholarship Spanish
*Scholarship winners will be expected to provide testimony to WHSA regarding the Head Start experience of their family prior to the Fall 2021 Awards Banquet.
---