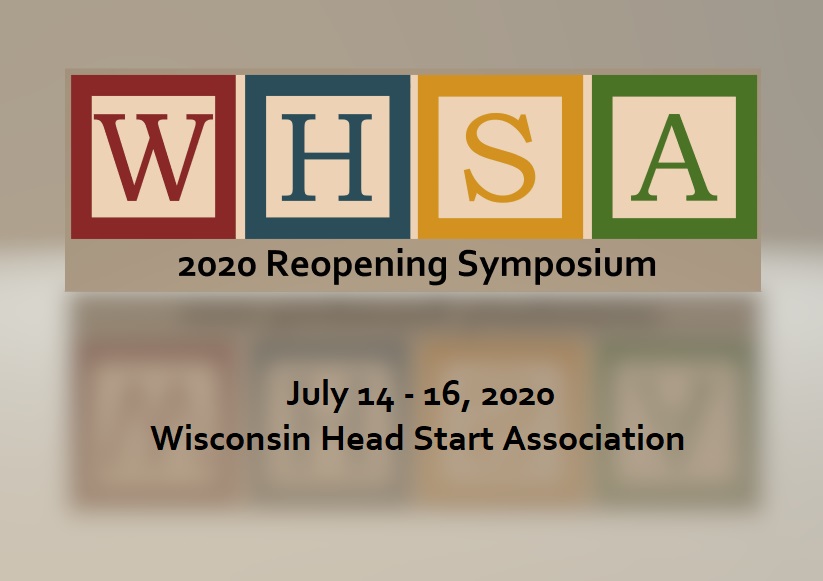 ---
As programs across our state open and plan for opening, let's come together to learn from state/national experts about how to navigate the many changes facing Head Start in this pandemic and during the ongoing fight for racial equality & justice. Join WHSA for a 3 day virtual Reopening Symposium with sessions featuring Dr. Dipesh Navasaria, Region V OHS, WIPFLi and specialists on mental health, trauma, employment law, and so much more.
Click Here to Register for This Event!
When:
Tuesday, July 14 – Thursday, July 16, 2020
Where:
This virtual event will be held through the Zoom online webinar platform.
Individual Cost:
$175 per participant.
Group Pricing:
5 tickets for $750
10 tickets for $1,450
15 or more for $2,000.
Event Access Codes: 
Access codes and links for all event meetings and webinars will be sent out to all registered participants at least two weeks prior to the start of the event.
Questions:
Contact Brian Stults at WHSAassist@whsaonline.org

Presenters:
An event not to be missed, the WHSA Reopening SYmposium will host a wide variety of Head Start reopening training and guidance. Thank you to all of our extremely talented presenters from: Dane County Public Health, Indianhead Community Action Agency, UW Madison, WIPFLi, Wisconsin Department of Children and Families, Wisconsin Department of Public Instruction, SSM Health, Schulz Law firm, REACH Dane, Region V OHS, Next Door, UW Milwaukee, Dewitt Law Firm, and more!
Session Topics:
We heard your wishes and designed an event just fro you! Per your requests, high level content from the following themes will be offered: Health & Safety, Staff Wellness, Funding Documentation Guidance, State & Regional Updates, Trauma Informed Care, Legal (HR/Policy/Non-profit) Guidance, Mental Health, Leadership & Management, Home Visiting, Race & Equality, and more!
Click Here to Register for This Event!
---
Event Schedule:
If you do not see the schedule below, please reload the page or click the Download link.
---
Event Sponsors:


---