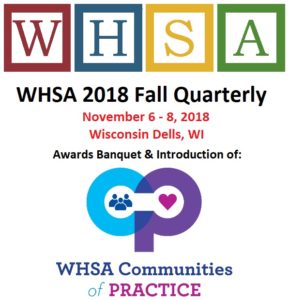 A not to be missed event! The Fall Quarterly meeting, Scholarship awards banquet, and kick-off of our new Communities of Practice all in one spot! Online Registration is open and includes meals, snacks and all training and Affiliate meetings. The room block at the newly renovated Chula Vista Resort in Wisconsin Dells is available until October 20th. WHSA is excited to continue our collaboration with WIPFLi bringing Maile Pa`alani, CPA and Senior Manager with the organization to share the keynote address on "Preparing for monitoring FA1 and FA2 – it's everyone's business" and to lead the Compliance Community of Practice on Wednesday. Facilitators are ready to launch the ERSEA, Family Services, Coaches and Affiliate Leaders through a variety of Topics unique to each group. At lunch we celebrate our scholarship award winners and their families. If you have wondered why WHSA is hosting the Fall Quarterly in November unlike our usual October days, the WHSA Board wanted to kick off the introduction to our Communities of Practice well after the start of a new school year to increase participation and after a large number of regional training events. An added bonus… hanging out with other HS folks watching the election results roll in on Tuesday evening!
---
---
Where:
Chula Vista Resort & Waterpark 2000 Chula Vista Pkwy. Wisconsin Dells, WI  53965
When:
November 6-8, 2018
Cost:
$95 includes lunch, breakfast, evening appetizers.
Who Should Attend:
ERSEA, Family Services, Compliance, Coaches, Directors, Staff and Parent Affiliate reps, Scholarship award winners, Conference Steering Committee.
Hotel/Room Block:
Room rate:  $82 single or $99 for 2 to 4 in room. Reserve by: 10/20/18 1-855-854-7227 www.chulavistaresort.com
---

Meet our Keynote:
Maile Pa'alani, Senior Manager at WIPFLi LLP, brings a unique mixture of auditing, accounting, and IT experience to her clients. She assists nonprofit agencies with customized solutions to help them succeed. Since 2002, she has been assisting agencies with installation of accounting or fundraising software, analyzing the organization's financial systems, and providing instruction in cost allocation, best practices, OMB's Uniform Guidance, and Head Start/Early Head Start regulations. Maile also brings her former auditing expertise to bear, helping organizations stay in compliance.
Communities of Practice:
Professional Development and networking that offers a richer experience of camaraderie with coworkers. Participants will examine multiple perspectives on ideas and practices, engage in deeper peer learning and shared enjoyment of work over time with trained facilitators leading workshops & discussions.
For the past several years, PLDWG has been working to reshape how we deliver professional development through the Association.  Our Strategic Plan Focus 2020, identified a need to implement and maintain meaningful leadership development opportunities for our members. To this end, a Communities of Practice approach will be used to offer focused multi-phased training opportunties which build on previous learning to encourage scaffolding as opposed to a "shot in the arm" workshop approach to training and development.  Each Community of Practice meeting/training will incorporate reflective discussions including progress, updates and lessons gathered from the learning community.  Therefore, we strongly encourage you to send a consistent person/ team to each meeting. Please reference the below Agenda to see what CoP's will be meeting at the 2018 Fall Quarterly!
2018 WHSA Awards Banquet:
Wednesday, November 7th will be highlighted by WHSA's annual Scholarship Awards Banquet. Join us to honor this year's scholarship winners and their families at 11:30 AM. The banquet will include lunch, the staff affiliate raffle, and presentation of the presentation of the 2018 WHSA Scholarships.
---
Agenda:
---
---
A special thanks to this year's Fall Quarterly event sponsor: