Wisconsin Head Start Association
17th Annual Training Conference
January 28-30, 2019
Exhibitor Information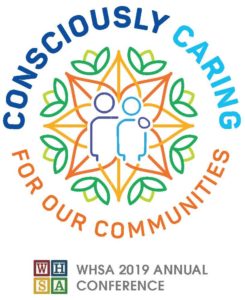 Download Here: 2019 WHSA Exhibitor Contract:
Please download, attach and email completed contracts to: whsaassist@whsaonline.org.
Contracts can also be physically mailed to the Wisconsin Head Start Association address.
Contact Information:
Email:
whsaassist@whsaonline.org
Mailing Address:
Wisconsin Head Start Association
5250 E. Terrace Dr. Suite 112
Madison, WI 53718
General Information:
Wisconsin Head Start Association is hosting the 17th annual training conference titled Consciously Caring for our Communities. This theme references the work of our highly anticipated keynote, Dr. Becky Bailey. Author, educator and creator of Conscious Discipline, Dr. Bailey has dedicated her life to creating positive, brain-smart environments for children, families, schools and businesses. The 2019 Annual Conference will be an exciting opportunity for professional development, and WHSA is currently seeking exhibitors!
Past exhibitors have truly enjoyed and benefited from their conference experience, and each year we try to make improvements for the exhibitors based on their suggestions.  Exhibitors at the 2018 conference were pleased with the results.  Exhibitors will be located in the main luncheon/break room; allowing for a high volume of participant traffic.
Invitation:
I would like to invite you to help celebrate once again the success of Head Start. I have enclosed a copy of the "Exhibitor Contract."  If you are interested in having exhibit space at the conference, please complete the contract and return it Brian to WHSAassist@whsaonline.org or via post to the address listed at the bottom of this letter.  You will then receive confirmation. As the time of the conference draws near I will be sending you:
An Exhibitor Schedule
Exhibit Hall Floor Plan
List of all Exhibitors
Information on the Conference Schedule and the Kalahari hotel
Location of Conference:
Kalahari Resort
1305 Kalahari Dr.
Wisconsin Dells, WI  53965
Exhibitor Raffle:
Every year we have an "Exhibitor Raffle" which has been very successful at increasing traffic and interest in the exhibit area. All conference attendees are issued an "exhibitor passport" which they take to the exhibit booths. They have the passport stamped at each booth and when the passport is completed, they put their name in for a door prize. We are asking all exhibitors to contribute one small item for the door prizes. If you do decide to participate in the conference, please think about what you would like to contribute as we plan on including the "exhibit passport" raffle again this year.
Exhibitor Lunch:
New this year, we are offering exhibitors one free lunch with the purchase of their space. Additional lunches can be purchased at $10 apiece, a discounted rate from previous years. Exhibitors will be receiving the same lunch as the participants and will be eating in the dining area with the participants. If you are interested in lunch, please indicate this on your completed contract. The lunch fee must be paid at the time you submit your completed contract.
Deadline:
Extended Deadline: December 15th, 2018
---
Please download, attach and email completed contracts to: whsaassist@whsaonline.org.
Contracts can also be physically mailed to the address listed above.