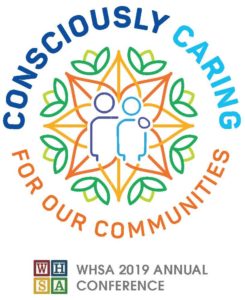 2019 WHSA Annual Conference
Consciously Caring For Our Communities
The 17th Annual WHSA Training Conference will be held at the Kalahari Waterpark Resort & Convention Center in Wisconsin Dells on January 28-30, 2019. The theme for this year's conference is " Consciously Caring for our Communities." Join with other Head Start, Early Head Start, Tribal Head Start and other ECE professionals engaging in amazing workshops, speakers and networking opportunities.
---
When:
January 28-30, 2019
Where:
Kalahari Waterpark Resort & Convention Center
1305 Kalahari Dr.
Wisconsin Dells, WI 53965
Room Block Expires: December 28, 2018
Room rate $82 single, $129 2-4 in room.
1-877-253-5466
www.kalahariresort.com
Registration:
$335 Early Bird by 12/21/18
$355 Before 1/25/19
Onsite $395
$135 presenters for full-conference/ free on day of presentation
(Presenter registration will be sent out via email on the schedule is finalized.)
Single Day Attendance: $265 per day ($275 onsite)

Monday Keynote Address: Dr. Becky Bailey
Becky A. Bailey, Ph.D., is an award-winning author, renowned teacher and internationally recognized expert in childhood education and developmental psychology. She touches thousands of lives each year through live events and over 1.2M of her top-selling books are in circulation, and Conscious Discipline has impacted an estimated 15.8M children.
Dr. Bailey will be presenting a special breakout session on Monday afternoon. Visit www.consciousdiscipline.com for more information of Dr. Becky Bailey.

 2019 Conference At-A-Glance Schedule:
Click Here to see the At-A-Glance Schedule!
Full Training Session Program:
Click Here to see the Full Session Program!
Call for Presenters:
Click HERE if you are interested in presenting at this year's conference!
Vendors/Exhibitors:
Interested in exhibiting at this years conference?
Follow this link to our exhibitor invitation page!
Exhibitors such as Teaching Strategies, Kaplan, Lakeshore, ChildPlus, Tiggly and more.
Workshops on topics including but not limited to science, math, Play, fatherhood,
dual language, inclusion, parents as partners, mentoring, data,
and a Vision Screeners training by Prevent Blindness.
Students
This conference is especially valuable to Students in education, social work or human services majors interested in working with children ages birth to five. A wide variety of training training topics are shared by experienced presenters, including but not limited to, trauma informed care, dealing with challenging behaviors, human resources, curriculum, data, family engagement, inclusion, and more! WHSA believes supporting students on their career journey to work in the early childhood field is critical to a highly trained workforce and thus offers a special, discounted student rate to encourage college-level attendance.
Click Here to be directed to our Student Registration Page!
Contact:
For questions, comments or if you would like more information,  call or email Brian at the WHSA office!
Brian Stults
whsaassist@whsaonline.org
---