Professional Development
The Wisconsin Head Start Association offers many professional development opportunities to its membership each year.  These events include our Quarterly meetings held each January, April, June, and October, the Annual WHSA Training Conference hosted each February, and an annual Directors Retreat.  The WHSA Professional and Leadership Development Work Group (PLDWG) creates and implements professional development and training opportunities for Wisconsin Head Start & Early Head Start programs.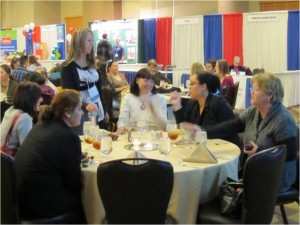 The WHSA Quarterly meetings provide unique occasions for Head Start management level staff to participate in training and networking in several key service areas.  Please see the WHSA Quarterly Meetings page for more details.  The Annual WHSA Training Conference–our largest event–is intended for a diverse audience of Head Start and Early Head Start program directors, parents, staff, managers, and community partners.  The Conference offers a breadth of content at its many training sessions dedicated to innovative practical initiatives, programs and applied research.

Additionally, WHSA often collaborates with partner entities–like state departments, state organizations, and the Wisconsin Training & Technical Assistance system–to develop content for the broader early childhood and care community in our state.  For example, WHSA has worked with the Wisconsin Head Start Collaboration Office (HSCO) at the Department of Children and Families, the Department of Public Instruction, and the Head Start Training & Technical Assistance System to develop the annual Finding Your Way forum and as part of the Wisconsin Oral Health Partners to plan oral health forums like 2009's Converging Interests: Head Start & Oral Health in Wisconsin.
Partnerships for Professional Development
Rasmussen College and WHSA – Partners in your Education
ecubed – employer educator exchange – Gain Instant Access to Today's Top-Tier Schools and Advance Your Career
2014-2015 Capstone Certificate Program in Infant, Early Childhood and Family Mental Health